New Semester, New Fidget Toy
Posted by Annie Hsieh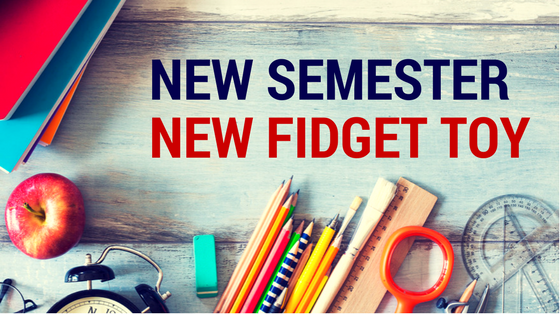 It's a new year and a new semester for your children. Parents of children with Autism Spectrum Disorder know how difficult it can be for their child to focus in the classroom. Classroom settings are often flooded with sensory stimuli which can make it extremely difficult for your child to concentrate. Hope is not lost, however. Your child can still have a great semester, one without constant sensory overload. 
One of the best ways to deal with such sensory stimuli is to provide a means for your child to fidget. According to the Aspergers Society, when children with ASD "have something they can touch with their hands, suck on with their mouths, or otherwise occupy part of their brain with, concentration is a lot easier." Fidget toys help the child forget overbearing stimuli and focus on the task at hand without becoming overwhelmed.
That being said, not all fidget toys are suitable for a classroom setting, especially fidget toys meant to be used with the hands. One reason these toys aren't particularly ideal for a classroom setting is jealousy among peers. Other students may question why your child is allowed to have toys in class but they aren't, and no parents want to see their child singled out by the other students.
So, if hand fidget toys aren't the best option for the classroom, what is? LakiKid offers an alternative fidget toy, which children can use with their feet instead. Foot Fidget Bouncy Chair Bands are the perfect option for the classroom.
These bands are discreet and easy to set up. The band simply needs to be stretched over the front two legs of a chair and, voila, your child is able to release nervous energy or reduce anxiety without distracting classmates.
Foot Fidget Bouncy Chair Bands are great outside of the classroom, as well. Do you find it difficult to get your child to sit still at the dinner table or out to eat at a restaurant? Since these bands are hands-free, children are able to fidget while still eating a meal. Foot Fidget Bouncy Chair Bands are effective in any scenario where your child may need to sit for an extended period of time.
The best part, we're having a back-in-stock sale on these bands! Be sure to check out the sale on Foot Fidget Bouncy Chair Bands, as well as the other products we offer. If you have any questions or comments, don't hesitate to contact us here.
1 Comment